Travel Interview with Nienke of The Traveltester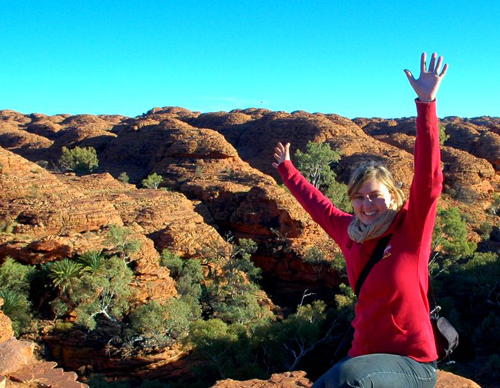 (©  The Traveltester / Nienke in Kings Canyon, NT, Australia)
Luxury resort or adventure camp?
I'd definitely go for an adventure holiday, as I think you get to see and understand a country and its people much more when you throw yourself into it and go exploring. But If I got offered a luxury holiday, I wouldn't say no!
White beaches or white mountains?
I love a good beach walk and collecting sand and shells, but I'm not really a sunbather-type. So I pick the mountains. Hiking in Nepal was one of my most memorable travel experiences. I like to get active on a trip.
Backpack or suitcase?
Still a backpack, even though I always curse it (usually at the end of a trip after collecting too many souvenirs). I always seem to break suitcase wheels for that same reason, so I stick with carrying my own luggage and deal with the consequences of buying everything I like on the road, haha.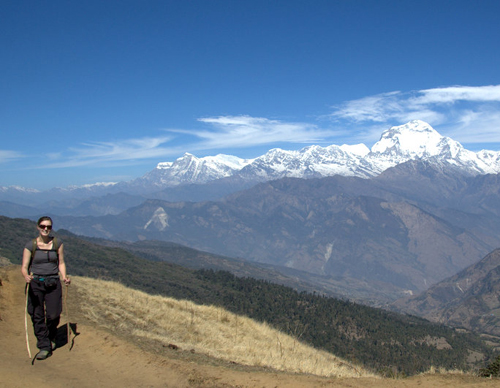 (©  The Traveltester / Nienke in Annapurna Region, Nepal)
Flip-Flops, hiking boots or pumps?
I will probably never get used to heels, even after having lived in Sydney where everyone seems to always wear them. Flip-flops always travel with me, they're so practical! But hiking boots usually taken me to the most interesting places, so I'd have to pick them.
Fondest travel memory?
My first solo trip was to Japan. It was an unforgettable experience. I had total freedom and all my senses opened up to new sounds, smells, people, language, religion, culture and lots of amazing food. I would recommend everyone to take the step to go on a solo trip. There is nothing quite like it.
These items are always in my luggage:
A pair of leggings (quick cover up, good for layering and makes beach dresses wearable at night), a hand scale (as I mentioned, I always over pack) and my camera (obvious, to record all travel memories and make everyone at home jealous).
Amsterdam born Nienke ['neen-kuh'] Krook ['krow-k'] camped all over Europe with her family as a child. Her early adopted passion for travel continued into a couple solo backpacking trips to Asia and Oceania and even life as an expat in Sydney. On her blog, Nienke focuses on the many ways of capturing the experiences we have when exploring the world, so that we never have to stop travelling, even when we're at home.