(© AngloItalian, Follow Us! / Franca and Dale)
Luxury resort or adventure camp?
Adventure Camp – I've got old age to stay still & treat myself, best to enjoy myself whilst the body can take it.
White beaches or white mountains?
White Mountains – Versus staying still on white sands I'd much rather challenge myself to a trek & receive great views as a prize.
Backpack or suitcase?
Backpack – I'd be lost without my mobile home & office.
Flip-Flops or hiking boots?
Neither – Best decision I've made to date was packing running shoes- I can walk in comfort & run to keep fit without the weight of carrying three pairs of shoes.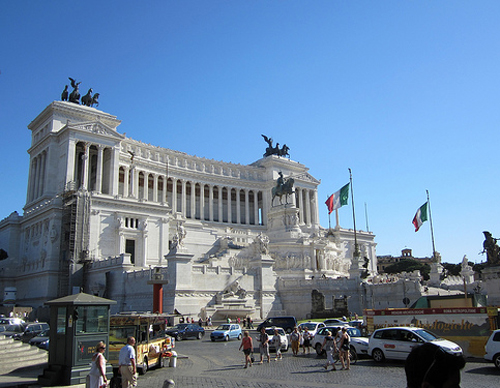 (© AngloItalian, Follow Us! / Rome, Italy)
Fondest travel memory?
Walking through Cinque Terre, Italy – With Franca being terrified of heights, walking along the steep-steep hills with no guide rails & paths barely wide enough for one was a major challenge, but the feeling of accomplishment & success one reaching the end was unforgettable.
These items are always in my luggage:
Unlocked Phone – In case of emergencies or to check in with a couchsurfing host, digging out my old-old Nokia was one of my wisest decisions. Cheap to run, changeable batteries & weighs nothing at all. Notepad & pen – Keeping tabs on where we've been, where we're going & writing something to remember for the blog, is essential. Books. Lots of books – Long flights, trains & bus journeys fly by with a book to hand. Always best to keep a few in the bag for when you plough through them. Tip – Exchange them with people in hostels.
On the blog AngloItalian, Follow Us! you can follow the Round The World travel exploits of British male ANGLO/Dale & the ex-pat Italian female, ITALIAN/Franca.