Event Tip: Lights on… or off?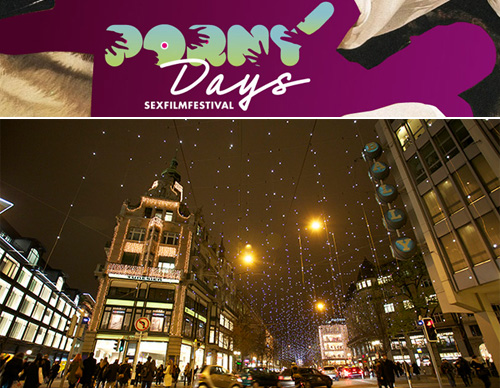 (Pictures: Porny Days and Shopping in the City)
Lights on: This Thursday at 6 pm, the Christmas lighting at Bahnhofstrasse will be switched on and it's Night shopping time. If you are a friend of Christmas atmosphere, Glühwein or shopping at market stalls, you shouldn't miss it. As most of the shops will be open until 10 pm, gift hunters among you will be happy, too.
Lights off: Next week from 29 November until 1 December, the lights at Zurichs first sexfilm festival Porny Days will be switched off for entertaining, informative, inspiring (short) films of all genres and times. Highlights are HEMEL by Sacha Polak, MEET THE FOKKENS by Gabrielle Provaas and Rob Schröder and many more.
The festival is situated at the Langstrasse, in the heart of the red light district @Kino Roland and Klub Kinski. Get further information about the Porny Days on their website.
It's up to you to decide wether you are more into romantic Christmas traditions or inspiring films and hot parties. Or both of them.