Summer in the City – part I: sun lovers, there you go!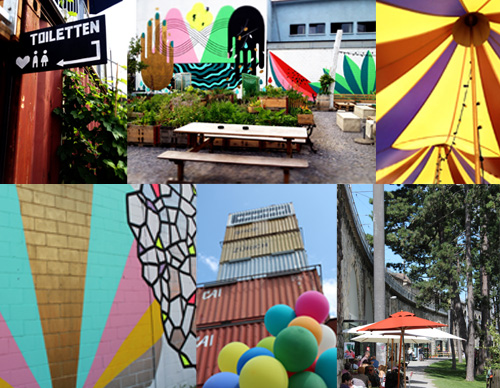 With all its nice streets, restaurants and places to relax, Kreis 5 is the perfect neighbourhood to enjoy a real 'Summer in the City' day. At the Viaduktbögen are located some good bars and restaurants where you can sit outside: Markthalle, Ambrosi or Restaurant Viadukt. Nearby, you'll find the Josefswiese, a superb place to take a sunbath, read a book and if you need a refreshment, dip your feet into the fountain or have a drink at Kiosk Josefswiese.
Walk down the Viaduktstrasse and check out some of the shops. At the end, Geroldstrasse starts. There, you'll find the Freitag tower, where you shouldn't miss the view from the sunny rooftop platform.
Right behind the Freitag tower is located Frau Gerolds Garten, a temporary sun terrace, summer restaurant, arts and city garden. Terrace, bar, kitchen and toilet area are built out of ship containers and you'll find shadow under a huge circus tent. The side walls are brightly-painted, flowerbeds and vegtable patches create a "green" atmosphere. It's a perfect place to have a chat and an ice cold beer – an urban park in the middle of Zurichs industrial district.
By the way: The weather forecast predicts great weather for the weekend, too. You shouldn't miss the Idaplatzfest on Saturday!