Do you know any baby-friendly coffee places in Zurich? GUEST POST from Sara of mammaconnect
Finding a cosy coffee shop in Zurich where you and your child are welcome can be challenging. That's why we asked the expert: Sara from mammaconnect explored the city and made a little guide about her experiences. This is what she wrote to us: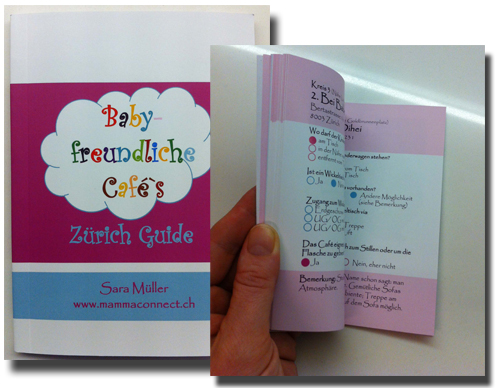 (Photo: mammaconnect)
"Coffee places in Zurich are not as baby-friendly as the ones in Berlin or other cities, where there are special coffee shops or restaurants. So almost every mother has the same problem: Where can I go to have a coffee with my baby? I tried to make a baby-friendly coffee guide for Zurich. The guide consist of 47 cafés in Zurich and you'll find places where you can take a coffee with your child, where they have a changing table or you can give your baby some food."
Here are two suggestions from Sara:
• Kafi Dihei: You and your baby are very welcome. There is even a special area for children to play with toys. The food is really great too. Just nearby the Kafi Dihei is the Fritschiwiese with a playground for kids.
• Tibits at NZZ Bistro: The insider tip for mothers with children. The place is spacious and has a special area for kids to play. The Tibits only serves vegetarian food.
Order Saras baby-friendly coffee guide for Zurich on www.mammaconnect.ch. (The guide is in German)