How nice and warm it is outside! I would like to enjoy my dinner in a garden restaurant – where can I go?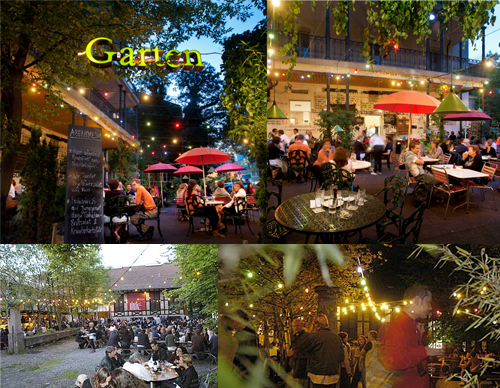 (Photos: Gartenhof, Reithalle)
You are right, it finally got quite warm – time to stay outside as much as possible.
There are different places we like a lot: at restaurant Italia you get served excellent italian food under big chestnut trees, Gartenhof has a lovely range of dishes and you sit in a cosy little garden, Palme de Beirut takes you east to enjoy libanese delights in a perfect green oasis.
The huge garden of Reithalle invites you to eat fresh european cuisine and at Bayrischer Hof Biergarten there will be served typical bavarian food and beer, of course.
Make sure to book ahead or be there early – every Zurich person wants to sit outside on the few warm summer nights we get over here!