I hear August 1th is National Day! How can I celebrate?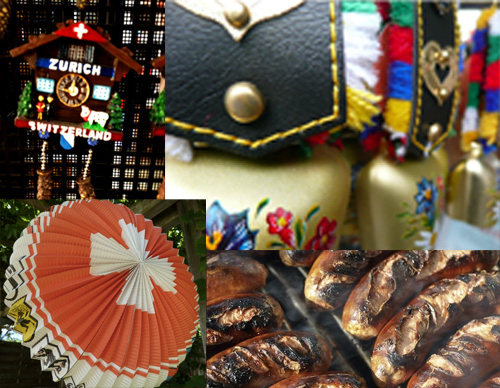 There is an official folklore procession from Werdmühleplatz via Bahnhofstrasse to Bürkliplatz. The procession is followed by a festival with music and food stalls at Bürkliplatz. More info here.
In whole Switzerland, many farmers offer whole-day-lasting brunches, for a typical "Burezmorge" have a look here.
A more urban way of August 1th is celebrated at Äms Fäscht at Bäckeranlage, where local bands play and food from all over the world heals your hunger. Or visit the Stadtsommer concert of Kazanchis (we'll blog about Stadtsommer tomorrow).
If you're not in the mood to celebrate with the masses, grab yourself a Cervelat, walk up to Hörnli in Zürich Oberland and go bbq-ing (or "brätle" as we say). Or follow the suggestions of Freunde am Kochen and cook yourself a typical Swiss dinner.