I am planning an Easter trip to Zurich. What is going on?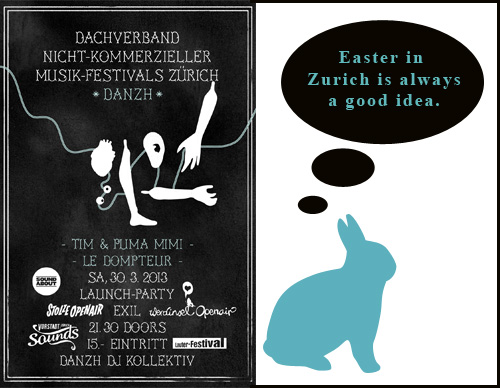 Easter… finally some days off! There is lots going on in Zurich during Easter time and one thing is for sure: Zurich is more than just chocolate (bunnies)! Have fun with any of the following:
Definitely the best party:
At Exil, you won't get any chocolate this Saturday, but lots of great music instead! 5 non-commercial music festivals from Zurich founded the umbrella organisation DANZH and invite you to their foundation party "all under one roof". You can look forward to Tim&Puma Mimi, Le Dompteur and others.
Good verus bad weather Easter program:
If the weather is nice, you could do a boat trip with Lindt's gold bunny, win some prices or eat Lindt chocolate while enjoying the view over lake Zurich.
The Kunsthaus is open all Easter weekend and is currently showing works by Marc Chagall, Haris Epaminonda and Ferdinand Hodler.
Looking for Easter eggs around town or how to entertain the little ones:
Zwänzgerle, the traditional after-Easter egg game! On Easter Monday from 10am, hundreds of eggs change owners at Limmatquai. Switzerland Tourism tells you how exactly it works.